Taxidermy: A Rare and Unusual European Otter Rudder Vesta (Lutra lutra), dated 1915, by E. Allen & Co, Bird, Fish, & Animal Preserver, No. 6 Feasegate, York, a large adult Otter rudder, with attached white metal collar as a vesta, engraved "Rigmaden, Aug. 3. 1915", mounted upon a shaped oak shield, rudder length 40cm, taxidermist's full paper trade label to verso, also with attached black and white postcard depicting an Otter hunt posse with hounds
£120-180 plus buyer's premium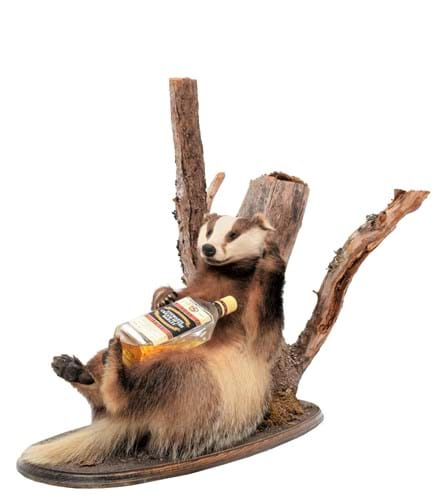 Taxidermy: The Boozing Badger (Meles meles), circa late 20th century, a full mount recumbent adult badger, sleeping off a boozy night, leaning up against a cut tree stump, with partially drunk Whisky bottle laid upon his belly, overall length 98cm, overall height 74cm
£200-300 plus buyer's premium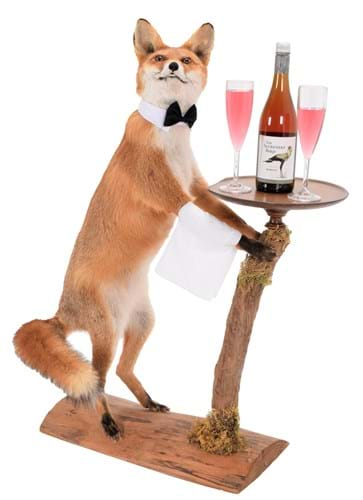 Taxidermy: An Anthropomorphic Red Fox Waiter (Vulpes vulpes), modern, a full mount adult fox in upright position, partly dressed as a restaurant waiter, the raised front legs with folded towel and dickie bow tie around the neck, supporting a circular tray with wine bottle and glasses, mounted upon a split log base, overall height 94cm
£300-400 plus buyer's premium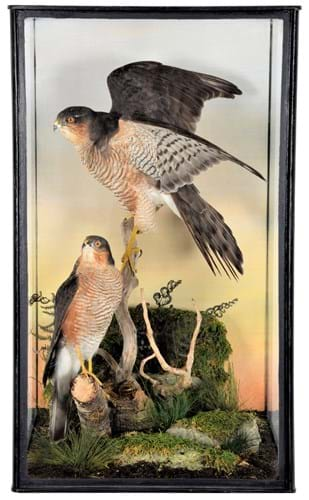 Taxidermy: A Pair of Cased European Sparrowhawks (Accipiter nisus), modern, a high quality pair of full mount adults, the female perched above the male with wings outspread, both perched upon tree stumps above painted faux rock work and soil covered groundwork below, set against a graduated wash painted backdrop, enclosed within an ebonised three-glass display case 38cm by 47cm by 64cm
With CITES Article 10 (non-transferable) licences no. 219203/57 - 238986/08
£300-400 plus buyer's premium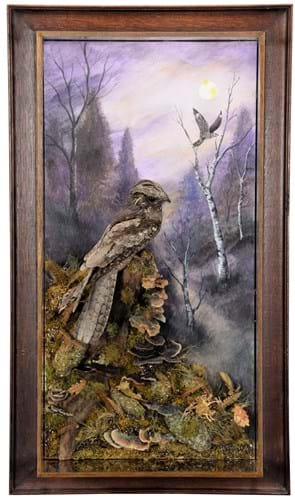 Taxidermy: A Wall Cased European Nightjar (Caprimulgus europaeus), dated 2012, by A.J. Armitstead, Taxidermist & Naturalist, Darlington, Co Durham, captive-bred, a high quality full mount adult perched atop a fungus encrusted tree stump, above grit and moss covered groundwork beneath, set against a hand-painted evening woodland scene backdrop, enclosed within a wall hanging oak picture frame style five-glass display case 31.5cm by 15.5cm by 62cm excluding outer frame, taxidermist's full paper trade label to verso, signed and dated to interior lower right
£450-550 plus buyer's premium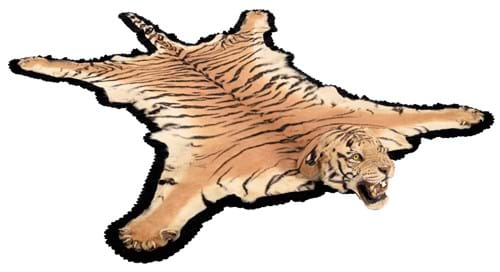 Taxidermy: Bengal Tiger (Panthera tigris tigris), by Van Ingen & Van Ingen, Mysore, India, No 19634, dated 05/12/1933, large adult tiger skin rug with head mount, jaw agape, glass eyes, mounted upon typical original canvas backing, with black serrated felt border, Van Ingen care label to verso, Van Ingen Van Ingen Mysore stencilling to canvas backing, 275cm nose to tail, 195cm across the fore-limbs, 175cm across the rear-limbs, taken by S.J.F. Shillingford, Small Arms School, Pachmarhi, India, together with a photocopy of the original order book entry
CITES Annex A, Appendix I (exempt)
£2,500-3,500 plus buyer's premium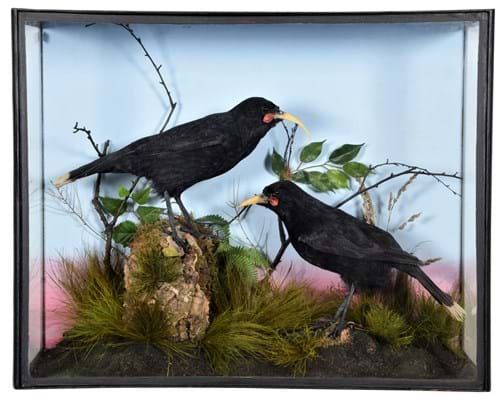 Taxidermy: A Cased Reproduction Pair of Extinct New Zealand Huia Birds (†Heteralocha acutirostris), modern, a pair of composed full mount Huia birds, the female perched upon a dry cork tree stump, the male below upon soil covered groundwork, amidst a natural setting of ferns, grasses and fauna, set against a pale blue and pink painted back drop, the beaks have been reproduced from actual beaks of specimens shot in the Gollans Valley, York Bay, New Zealand circa 1890, mounted upon substitute donor bodies, enclosed within a period style ebonised three-glass display case, 71cm by 30.5cm by 56cm, bearing ivorine label to interior lower right "Taxidermy by Frankenstein".
£1,200-1,800 plus buyer's premium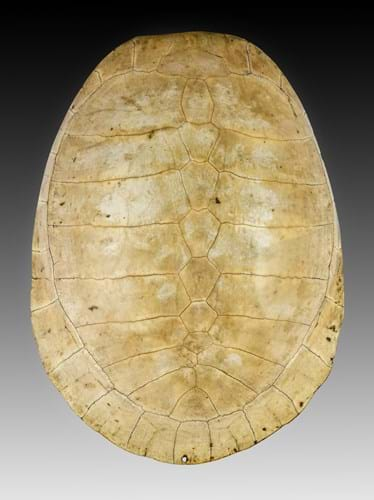 Natural History: Giant South American River Turtle Blonde Shell (Podocnemis expansa), circa 1900 - 1930, "Blonde Shell", also known as the Tataruga Turtle, large blonde shell with scutes removed, 54cm by 69.5cm.
CITES Annex B, Appendix II
Including a hand written letter of provenance describing how this Turtle Shell came into the present owners possession.
£1,800-2,500 plus buyer's premium
Entomology: A Fine Collection of British & European Butterflies, circa 20th century & later, a superbly displayed collection of over one thousand two hundred various British & European Butterflies, species to include - Black-Veined White, Pale Clouded Yellow, Wood White, Bergers Clouded Yellow, Green-Veined White, Small White, Green Hairstreak, Brown Hairstreak, Orange Tip, Long & Short Tailed Blues, Small Coppers, Northern Brown Argus, Common Blues, Purple Emperor, Red Admiral, Painted Lady, White Admiral, Large & Small Tortoiseshell, High Brown Fritillary, Silver-Washed Fritillary, Small Pearl-Bordered, Heath Fritillary, Marbled White, Scotch Argus, The Gatekeeper, Large Heath, Meadow Brown, various Skippers, and a small collection of European Clouded Yellows, the majority with attached data labels, all mounted within glazed drawers, contained within a fine quality mahogany twelve drawer collectors cabinet with glazed door, 49.5cm by 47cm by 88cm, part of the Haydn Wood Butterfly & Moth collection, Sheffield
£1,000-1,500 plus buyer's premium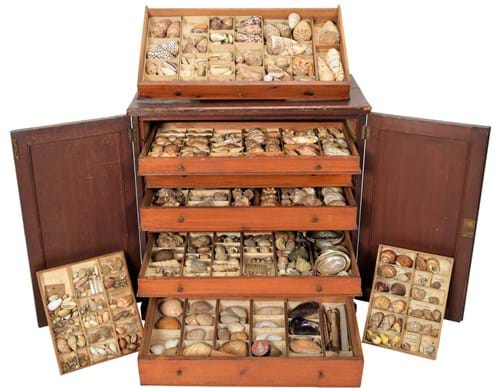 Natural History: A Very Rare Collection of World Seashells, by repute collected by HMS Challenger, 1872-1876, an interesting and rare to find collection outside of any institution and or museum, a large collection of various World seashells collected by the crew of H.M.S. Challenger while circumnavigating the globe between 1872-1876, housed within a period double door collectors cabinet, the doors opening to reveal eight various sized drawers with indexed individual compartments, all shells with attached data labels, including a small handwritten ledger documenting specimens in full, with locations noted, cabinet size 66.5cm by 37.5cm by 68cm
£1,000-1,500 plus buyer's premium